Lecture recording is easier than ever.
EverCam is truly easy to use for everyone who wants to record PowerPoint lectures. All you need to do is select the slide you want to present and click the record button.
In contrast, in most popular tools, (e.g. Camtasia) you can only start PowerPoint presentation from the first slide. So you have to manually switch to the slide you want then start recording. 
...[more]
Video tutorials

 Record Your Screen

 Basic Editing
Continue recording
Works like how you think it does.
When you start recording again in the same PowerPoint file, EverCam works like a tape recorder: it appends the newly recorded content to the previous content. As a result, you don't need to merge separate videos together even if the presentation was recorded at different times. The video clips are always combined into one complete, uninterrupted video.
On the other hand, Camtasia saves your presentation as separate files every time you start recording again.
…more

Delete & Edit
Slide-based editing, like PowerPoint.
How to delete the unwanted video clips?
Open EverCam editor. You'll see the indexes created by EverCam. Select an index and hit Delete. It's just that simple!
You don't need to find the exact time point to edit. It is much easier than Camtasia.
…more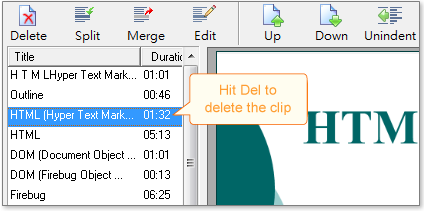 Share Videos
Other than YouTube, you have a better choice.
You can upload videos directly to YouTube. However, You have a better choice-share EverCam files on
www.camdemy.com
.
Camdemy offers not only free storage, but also numerous wonderful features designed specifically for online learning.
…more

INDEX
Find the specific topics
you want easily.
VIDEO NOTE
Draw and share notes
like you are used to.

IN-VIDEO QUIZ
Encourage students to stop and
think about the contents.

KEYPOINT
Show your video contents
like a blog.

FAQ
Accumulate questions into
a strong knowledge base.
Simple yet Powerful
Add annotations, videos, etc. Beyond your expectations.
You finally finished the recording but perhaps found a small mistake, or you would like to insert a video clip and add some annotations. EverCam Point can take care of it for you.
EverCam Point enhances the capabilities of EverCam video post-production. It helps you integrate EverCam videos, add annotations, create animations, apply themes, etc. It's easy to use and empowers everyone to create professional-looking online courses.